Arroline Infinity JW ShCM
1CC, 1RCC
Arroline Skyfall x Avalcier Gino JW (MRI Clear)
Dob: 23/03/2014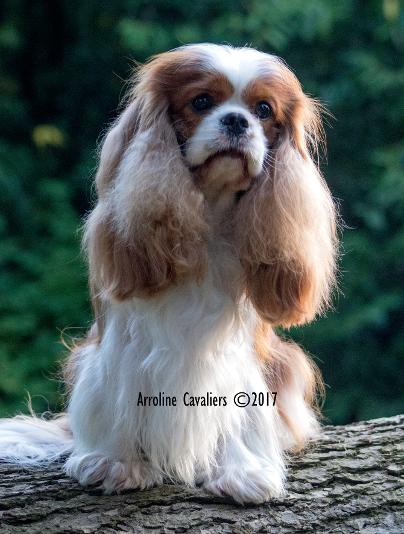 Woody has won well highlights include :-
Winning the Dog Challenge Certificate at Ladies' Kennel Association then to our delight goes Best in Breed out of an entry 195 cavaliers.
At the Cavalier Club Championship Show on 4th March 2017 'Woody' Arroline Infinity JW ShCM wins the Limit class with 18 dogs
At Manchester Dog Show Society Championship Show on 20th January 2017 'Woody' Arroline Infinity JW ShCM wins the Limit class with 18 dogs in the class then is awarded the Reserve Challenge Certificate
Eastern Counties Cavalier King Charles Spaniel Society Open Show on 15th January 2017 he wins Best Dog then is awarded Reserve Best in Show and Best Opposite Sex
At Three Counties Pekingese & Cavalier Open Show on 29th October 2016 Arroline Infinity JW wins
Best of Breed out of a total cavalier entry of 104 then to our delight goes Reserve Best In Show with this win Woody has the final points needed for his Show Certificate of Merit (ShCM)
At Cruft 2016 Arroline Infinity JW won hie Graduate class of 15 under Mr M Forte, our first home breed dog to get a 1st at Crufts.
At Bournemouth Championship show Woody gained his final point for his Junior Warrant by winning both Junior and Graduate classes. Launching his junior warrant total to 30 points and titling him Arroline Infinity JW. Thank you to judge Pam Craig (Aldachell)
At South and West Wales Cavalier Club Championship Show 2014 Arroline Infinity 'Woody' Won the Minor Puppy Dog Class qualifying him for Puppy of the Year under Mrs J Boyd (Airlie)
Critique from Ladies Kennel Association
Championship Show – 9th December 2017
Judge Mrs M Newton ( Tonnew)
Dog CC and Best of Breed
Arroline Infinity JW ShCM
CC – This charming Blen lad stood out for me today, large dark eyes and nose, great earset with plenty of feathering framing a lovely soft expression. Plenty of neck, correct front and nice ribcage with ample bone, well turned stifle which all showed when he moved effortlessly around the ring with a level topline and tail carriage. Beautifully shown and presented in full bloom, lovely typical Cavalier temperament, alert and happy all the time just wanting to please his owner.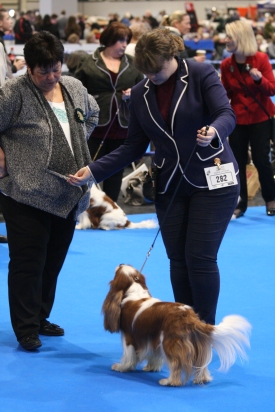 Photo with thanks to Steve Mynott
2 years and 7 months old Blenheim dog. Lovely well balanced appearance, shape and out line. Gorgeous nice head with pretty and gentle expression. Long high set ears, framing his head to advantage. Large dark round eyes. Well tapered muzzle, firm jaw with teeth in a scissor bite. Good black pigment. Good reach of neck carrying head proudly and fitting into well angulated shoulders. Topline and tail carriage well on the move. Good turn of stifle and well let down hocks. moving nicely and well handled. Every thing totally well balanced today and deserved BDIB/BIB Congratulations!
Critique fromThree Counties Pekingese & Cavalier Open Show – 29th October 2016 judge was Mr T Matsumoto (Japan)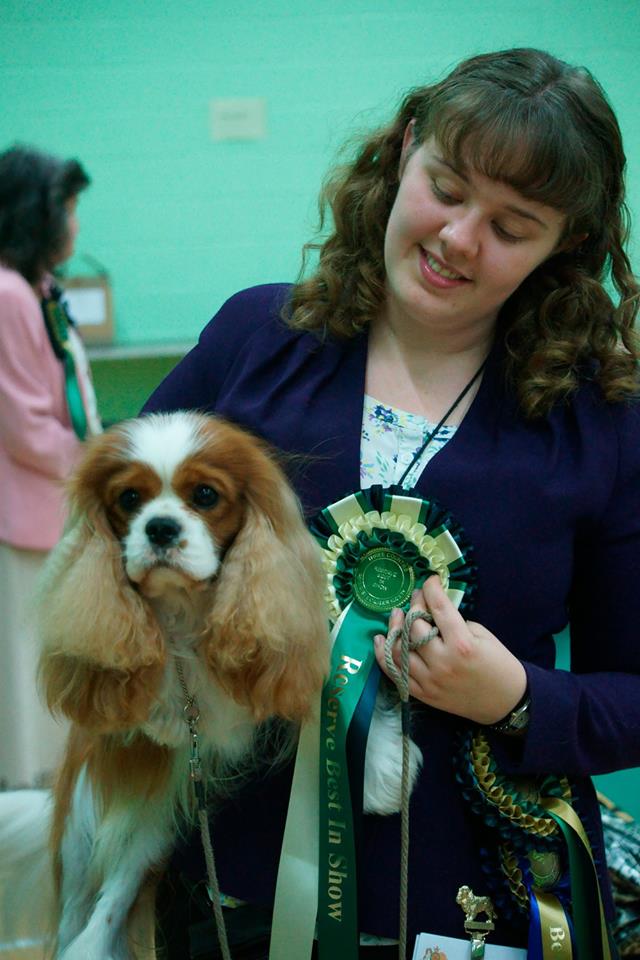 Critique from Manchester Dog Show Society Championship Show – 20th January 2017 Limit , Judge Mr T D Mather (Barklots)
Limit (19,1) 1st Long's Arroline Infinity JW ShCM
Blen, very free moving & sound with some drive from the rear & this coupled with his strong hindquarters, just gave him the edge in the challenge for the RCC. Good head with kind, gentle expression & large melting eye. Well ribbed & short backed. Silky coat. Holds his outline well with his good slightly arched neck. RCC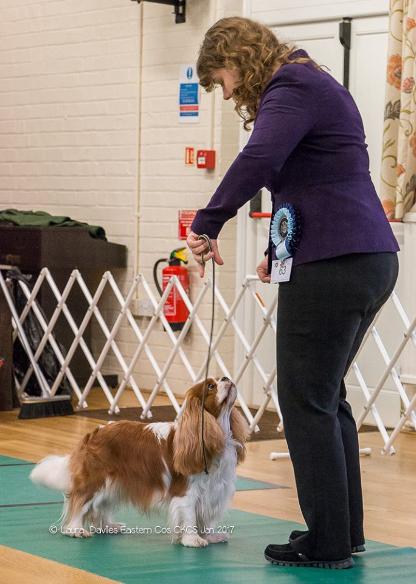 Arroline Infinity JW
Everything I was looking for in one package. Beautifully marked almost 3 year old blen dog, in a great rich chestnut jacket. So very hard to fault today, head almost flat between his well-feathered ears, good dark nosepad and lovely cushioning to his muzzle. So well made, lovely layback of shoulder and return of upperarm, nice depth of brisket and good spring of rib, short strong loin and as consequence, firm level topline. Tail carried just off his back and wagging non-stop. Just enough coat so as not to detract from his typical Cavalier outline. I have judged him before, and he has matured advantageously. In the challenge he was firing on all cylinders and I really could not deny him BD, and later to a superb ruby bitch, RBIS. He is a lovely well balanced toy spaniel who moves with great fluidity, driving easily away and extending well in front, in profile a real eyecatchter; and I hope he continues to do well.
Critique from Mr E Ryan (Cavalli/Cavallibrook) judge at Eastern Counties Cavalier King Charles Spaniel Society Open Show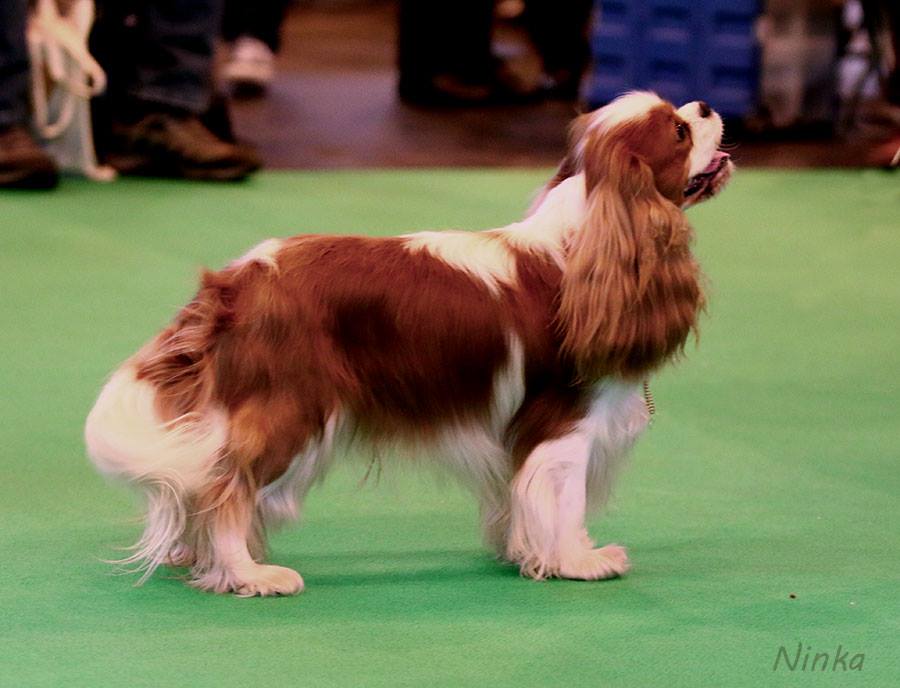 Woody Pictured at Crufts 2016
Photo with thanks to Ninka Wladzimiruk
1st ARROLINE INFINITY JW (MRS L & MISS H LONG) Blenheim. Good size male with a well balanced body. Another free moving male holding himself well. Excellent profile standing. Lovely dark eye with a soft expression. Excellent pigmentation. In beautiful condition with a very outgoing temperament.
critique from Crufts 2016 Championship Show by Mr M Forte (Leonfort - Ireland)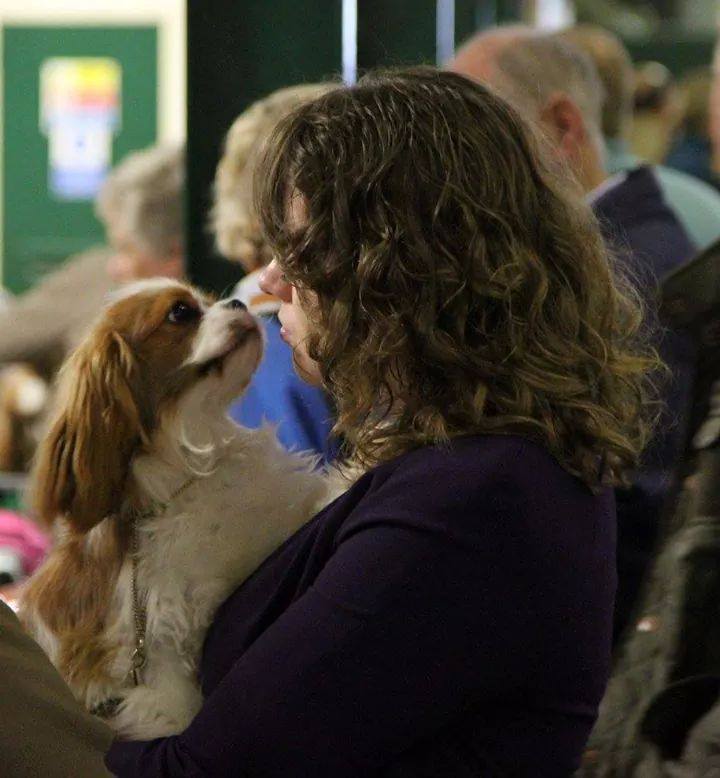 Woody at his first show with Helen
Photo with thanks to Lee Todd