Ch Arroline Honeysuckle JW ShCM
4CC 1BOB 1 RCC
Arroline's Athena (MRI 'A Clear') x Maibee Perfect Touch of Charnavale JW
Dob: 14/07/2011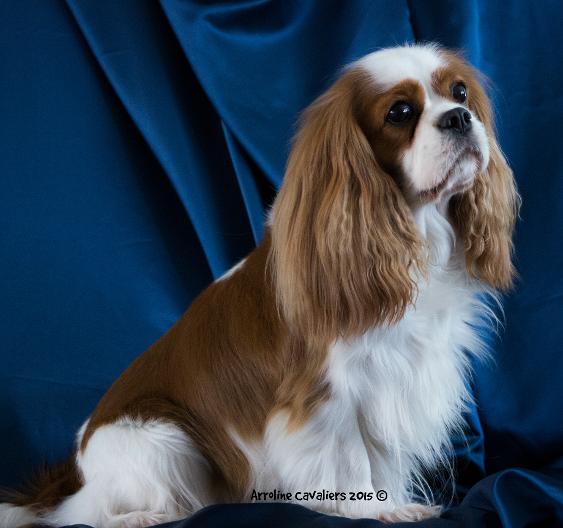 Highlights 2015
Kicking off the new year in style! Honey, at her first championship show of the year Manchester, won her last Limit bitch class and her 4th Challenge Certificate.
Thank you to breed specialist judge Rob Sansom.
"
Arroline Honeysuckle JW ShCM
.
3 yrs Blenheim of great quality, she has that something about her that demands attention, lovely correct head and wonderful eyes, strong neck and good bone. Straight front, topline ok, well ribbed and coupled into good quarters with tail well set, moves true both ways and is great in profile, she has a soft silk coat and good feathering, I love the way she shows, the way she looks at you, I might just say I love this bitch! Delighted to award her 4th
CC
.
"
Mr R Sansom(Byermoor) critique from LKA Championship Show winning Limit Bitch and her 4th CC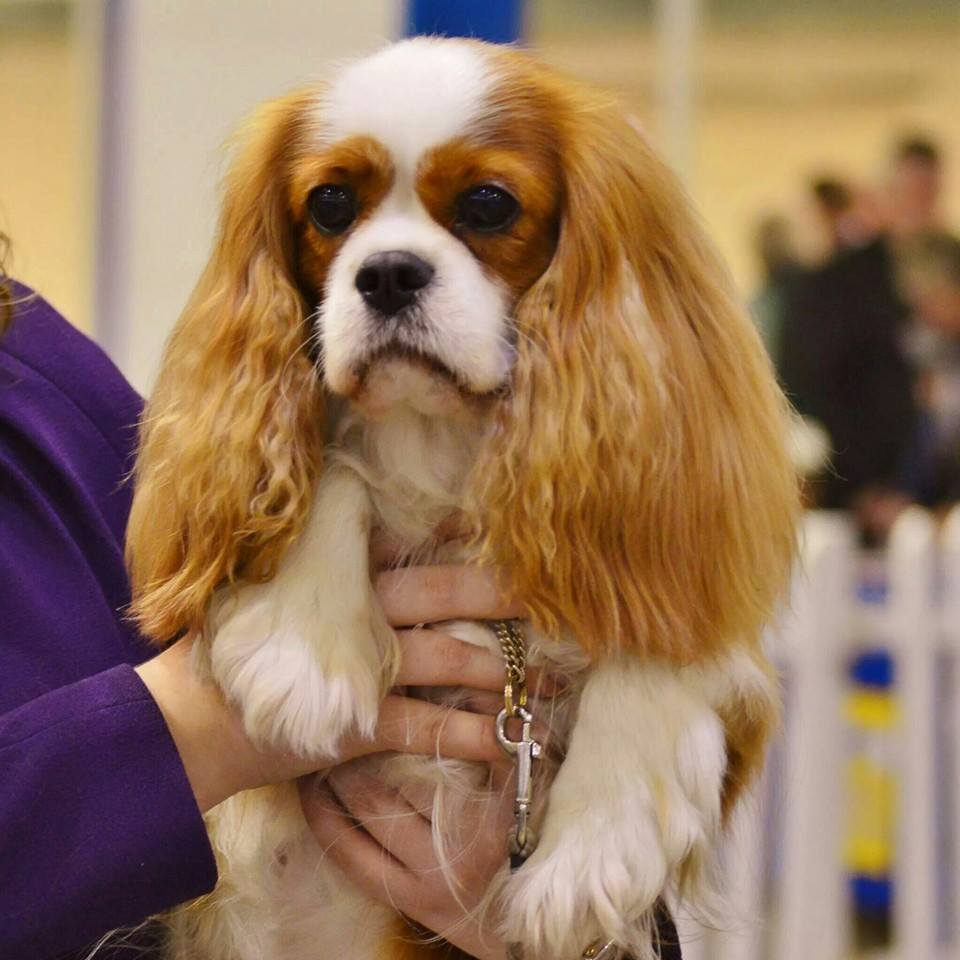 Ch Arroline Honeysuckle JW ShCM
(Honey)
Pictured at Manchester 2015
Photo by Norma Inglis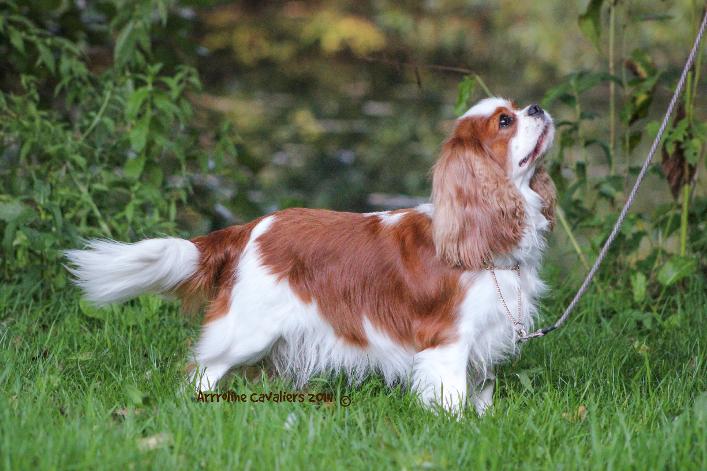 Pictured at The Cavalier of the Year 2014
Highlights 2014
At Ladies Kennel Association Championship Show Arroline Honeysuckle was awarded her third Challenge Certificate out of a Bitch entry of 89 and is now UK Champion in just 4 championship shows
At Midland Cavalier King Charles Spaniel Club Championship Show 2014 Honey was awarded her second Challenge Certificate beating an entry of 119 bitches
At Midland Counties 2014 Honey was awarded her first Challenge Certificate out of a total Bitch entry of 117 and Best of Breed out of total entry of 191 Cavaliers
Reserve Best Bitch of the Year 2014 at the Cavalier Club Cavalier of the Year Challenge

Best in Show at the Southern Cavalier King Charles Club Summer 2014 Open Show

"Arroline Honeysuckle JW. Well broken 3 yr old Blen bitch. Pretty head with correct earset, lovely dark eyes accompanied by a rich black nose. While standing she stood 4 square and never stopped wagging her tail. She moved with drive keeping a nice level topline. CC and BOB! "
Mr S Watts (Jamesbonny) critique from Midland Counties Championship Show winning Limit Bitch and her 1st CC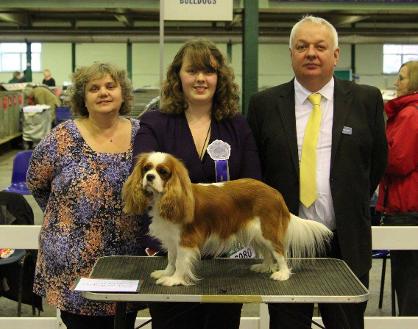 "Arroline Honeysuckle JW. A beautifully balanced blenheim who is just reaching her best. She shows no exaggeration in any department. Pretty feminine head with an alert expression with that look of willingness as she stole the show. Never stopped wagging her tail, and is so very attentive to her handler. Hands on tells you she is correct throughout, stands on compact feet, with well boned limbs. Correct shoulder & upper arm placement. Elegant flow of slightly arched neck, onto level topline and tailset. Classic kind head, the shape very close to the breed standard, with the softest outlook, dark expressive eyes and stunning pigment. Going away showed positive movement, driving from her strong hocks. She oozes style and class. An outstanding Cavalier who has, most importantly, great ring presence. She certainly has the wow factor. She enters the ring and owns it. She beat off very strong competition to win C.C. I hope she soon gains her crown. "
Mrs J Boyd (Airlie) critique from MIdland C.K.C.S Championship Show winning Limit Bitch and her 2nd CC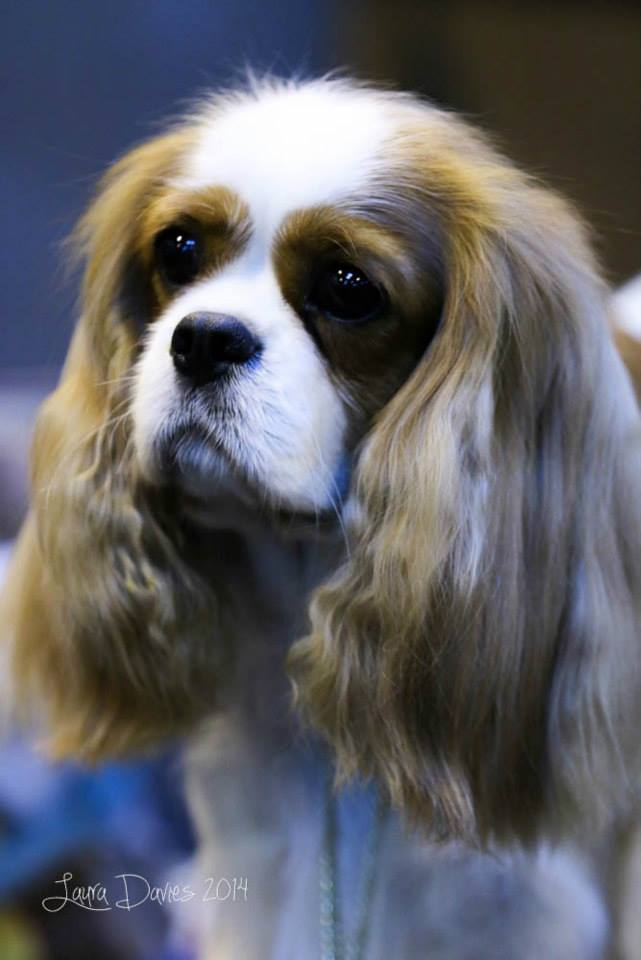 Ch Arroline Honeysuckle JW ShCM
Photo at LKA By Laura Davies
" Arroline Honeysuckle JW ShCM. Although not in the fullest of coats this Blenheim really caught my eye when she entered the ring as in profile she is beautifully balanced and such a good mover. Possesses a lovely head and expression with large, dark eyes and very good depth of pigmentation. Good body and rib, strong well-muscled hindquarters. Moved out with some drive and she has a lovely personality which means she commands a second look. In the challenge I found her hard to resist and gave her the CC which I later learned was her third. Congratulations."
Mr T D Mather (Barklots) critique from LKA Championship Show winning Limit Bitch and her 3rd CC
Highlights 2012-13
At Three Counties Championship Show 2013 Arroline Honeysuckle JW (Honey) awarded the Reserve Challenge Certificate at 22 months of age
Qualified for Cavalier of the Year Competition 2013 and 2014

Junior Warrant at 14 months old giving her Lifetime Crufts Qualified

Best Puppy in Show at South and West Wales Cavalier King Charles Spaniel Club Open Show 2012
Qualified for the Cavalier Club Puppy of the Year Competition 2012