Arroline Utopia and Arroline Euphoria
Ch Arroline Honeysuckle JW ShCM x Ch Wandris Evan 'Elp Us (MRI 'A Clear')
Dob: 18/12/2016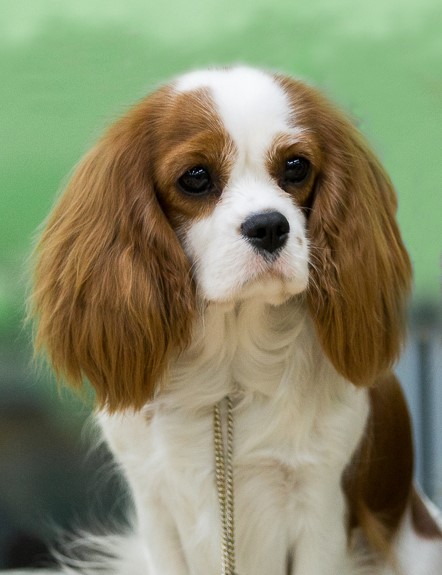 Arroline Utopia 'Dash'
Photograph by Laura Davies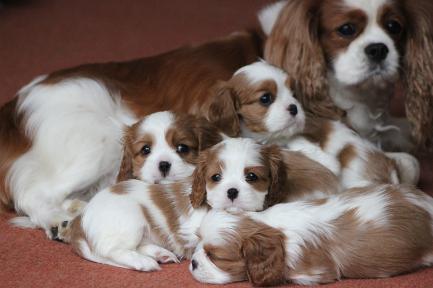 From our lovely litter of girls by Ch Honey and Ch Evan, we have kept two lovely girls Arroline Utopia 'Dash' and Arroline Euphoria 'Chilli'
Arroline Utopia

A very pretty 7 month old baby, - well broken markings, nice head with dark eyes giving a pleasing expression, she moved well with plenty of exuberance. BPB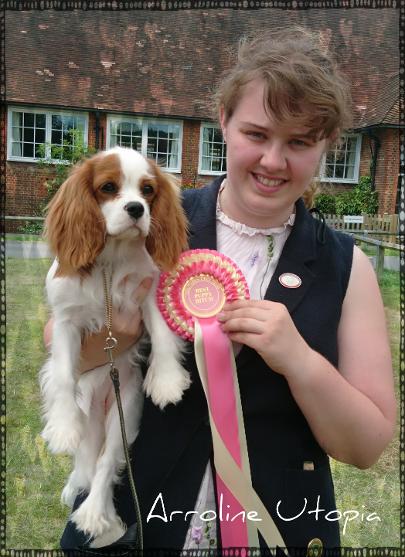 Dash won Puppy Bitch class and Paignton and then bet her sister to best puppy bitch and to our delight then won Best Puppy in Breed, four day later won the Miror Puppy class at the next championship show. Not as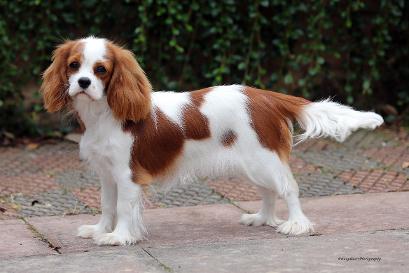 Arroline Utopia
Perfectly schooled, attractively marked blen nearing 9 months who demands attention, always standing to an advantage showing off her crisp, well balanced outline. Perfect size and neat little shape with moderate bone, body developing well for age, super topline and tailset, ample reach of crested neck and good rear angulation. Her head will need some time but she had pretty eyes, shallow stop, nicely balanced length of muzzle and correctly set and carried ears. Carrying a good coat for her age, moving out with purpose with an impressive topline and tail carriage.
Miss L Tarabad (Khatibi) critique from Darlington Dog Show Society Championship Show on 17th September 2017 winning Minor Puppy Bitch class.
Photo at Paignton 2017 by Gary Quest
Both girls are now qualified for Crufts 2018 and the Cavalier Club Puppy of the Year challenge at just 7 months old.